I want to post this while LJ allows me in....banners will be added tomorrow. Sorry!! ADDED!



♥ The Results of Week Six of the H/D LDWS
have been tallied! ♥



Thank you to everyone who participated by writing, by reading and voting. We hope you enjoyed the drabbles this week, .

And the winner of Week 6 is ...



We have a winner! And it's
oldenuf2nb
who won with her drabble "How to Save a Life", which has Harry utter the most beautiful declaration of love -
We found our way to each other this time. We'll do it again."
- when he has to make a heartbreaking decision.
Congratulations,
oldenuf2nb! ♥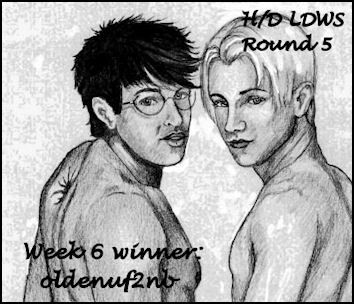 art courtesy of
oldenuf2nb | banner by
sassy_cissa
This week, one participant was eliminated from the challenge. With a sad heart we say good-bye to
ms_hecubus
who wrote "No Quarter Given". Thank you so much, Ms Hecubus, for participating in this round of the H/D LDWS. We are very sorry to see you go, and we hope you enjoy the remaining weeks of the LDWS.
♥ ♥ ♥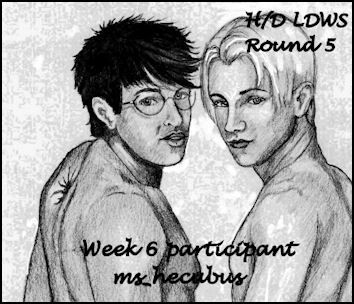 art courtesy of
oldenuf2nb | banner by
sassy_cissa

Please save your banners to your computer or on a photo hosting website. Thank you!



If anyone missed the four gorgeous drabbles about how lovers may or may not use the Obliviate Memory Charm, you can find the Week 6 drabbles here.

Authors' names have been added to the voting post.

Next week is the Semi-Finals: The prompt for Week 7 will go up on Friday.

Your mods –

sassy_cissa and
vaysh